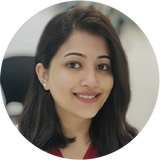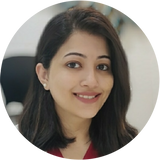 Dr. Kalyani Deshmukh
DERMATOLOGIST | HAIR SPECIALIST, 4 YEARS
Education

M.D. (Dermatology), M.B.B.S
Registration

2016/10/4453
Rating

5/5
About the doctor
Dr. Deshmukh is a Dermatologist, Trichologist, and Aesthetic Surgeon. Not only is she a practicing dermatologist but has gained academic fame for her articles published in the Journal of American Academy of Dermatology. Kalyani is well trained in Botox, Scalp micro pigmentation, and Microblading but her keen interests lie in Dermato-surgery. She believes that a personalized service maximizes customer satisfaction and strives to achieve high success rates.
Patient Stories
SSuyog
I have visited a number of dermatologists in Mumbai and have found Dr. Kalyani's treatment working for my hair loss.
NNeha P
Before Traya, I was losing hair like crazy. I also tried different shampoos and keratin treatment for my hair but nothing worked. Then I started Traya and they helped me get in touch with Dr. Kalyani. She consulted me for nearly 30 mins and didn't even charge much.
MMushtaq
Dr. Kalyani is very professional. I was earlier scared to use minoxidil because it can cause hair fall but she very nicely explained to me how minoxidil works. Now I have been using Traya minoxidil daily and I have seen hair growth within 5 months
MMeena
I was suffering from post-pregnancy hair fall and depression. I didn't think my hair would go back to normal. After using Traya's medications prescribed by Dr. Kaylani and maintaining a balanced diet, I was able to manage my hair fall. I can also see baby hair sprouting.
JJaymon
Very happy with my hair quality. Thank you, Dr. Kalyani
DDaniel
I would recommend Dr. Kalyani to all my friends and family experiencing hair fall. Within 4 months I could see hair growth. Thankyou Traya :)
NNikhil
Never thought my hair could grow back to how it was before. Once I started using Traya allopathic products prescribed by Dr. Kalyani, my hair grew stronger and thicker.
Frequently Asked Questions
Cosmetology focuses more on the skin and face while Trichology is a specialization in hair and scalp health.
Patients frequently visit Dr. Deshmukh for Scalp acne/allergies or Dry scalp.
Dr. Deshmukh has the following qualifications - M.B.B.S, MD - Dermatology, Venereology & Leprosy.
The use of forceps for creating sustained pressure for slit skin smear – JAAD 2019 Feb
More efficacious extraction of molluscum bodies with angled forceps – JAAD 2019 Feb
Clinical profile of Tinea Pseudoimbricata: an observational study from a tertiary care institution in western Maharashtra, India' – IJORD March 2020
The role of topical tacrolimus in adherence to antifungal therapy in recalcitrant tinea incognito: a preliminary nonrandomized controlled study – IJORD Nov 2018
Clinic-epidemiological study of topical steroid damaged skin and its effects – IJSR June 2020
Awards & Recognitions