Thank you for taking the hair test. Based on your responses, we have identified the top reasons behind your hairfall.
We can only imagine how frustrating it must have been to deal with hairfall.
But, we are pretty confident that we can fix this together.
Let's get started!
User

Hair Regrowth Treatment Plan
1 Month Plan
Your Hair transformation kit
₹ 2150
Customized doctor plan
Free₹ 1,000
Ayurvedic diet plan
Free₹ 500
Personal hair coach
Free₹ 500
Your Plan @
🎉Cheers!You Saved ₹ 2000
Your Customised Re-growth Hair Kit
Your Customised
Hair Re-growth Kit
Real women, Real stories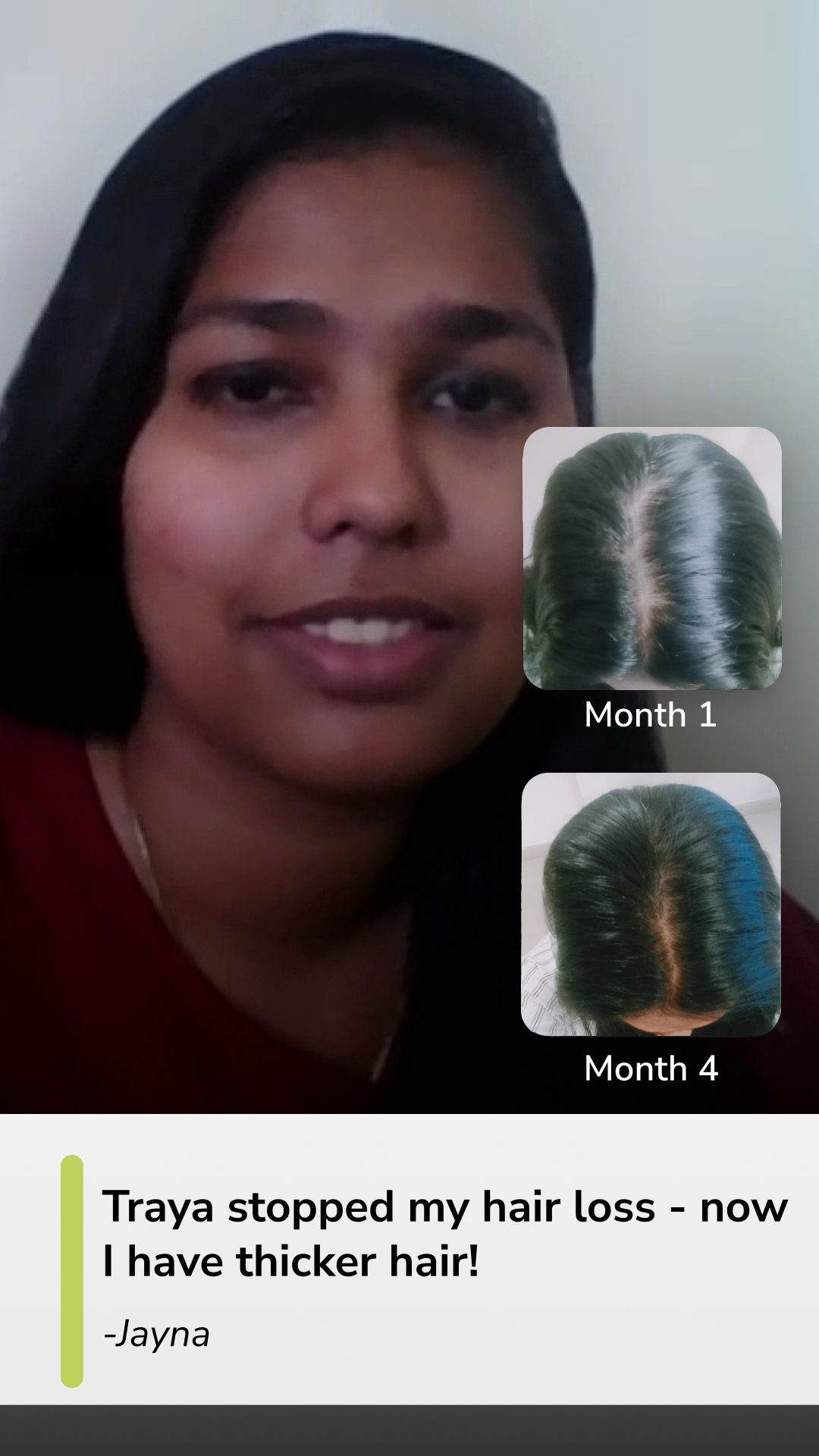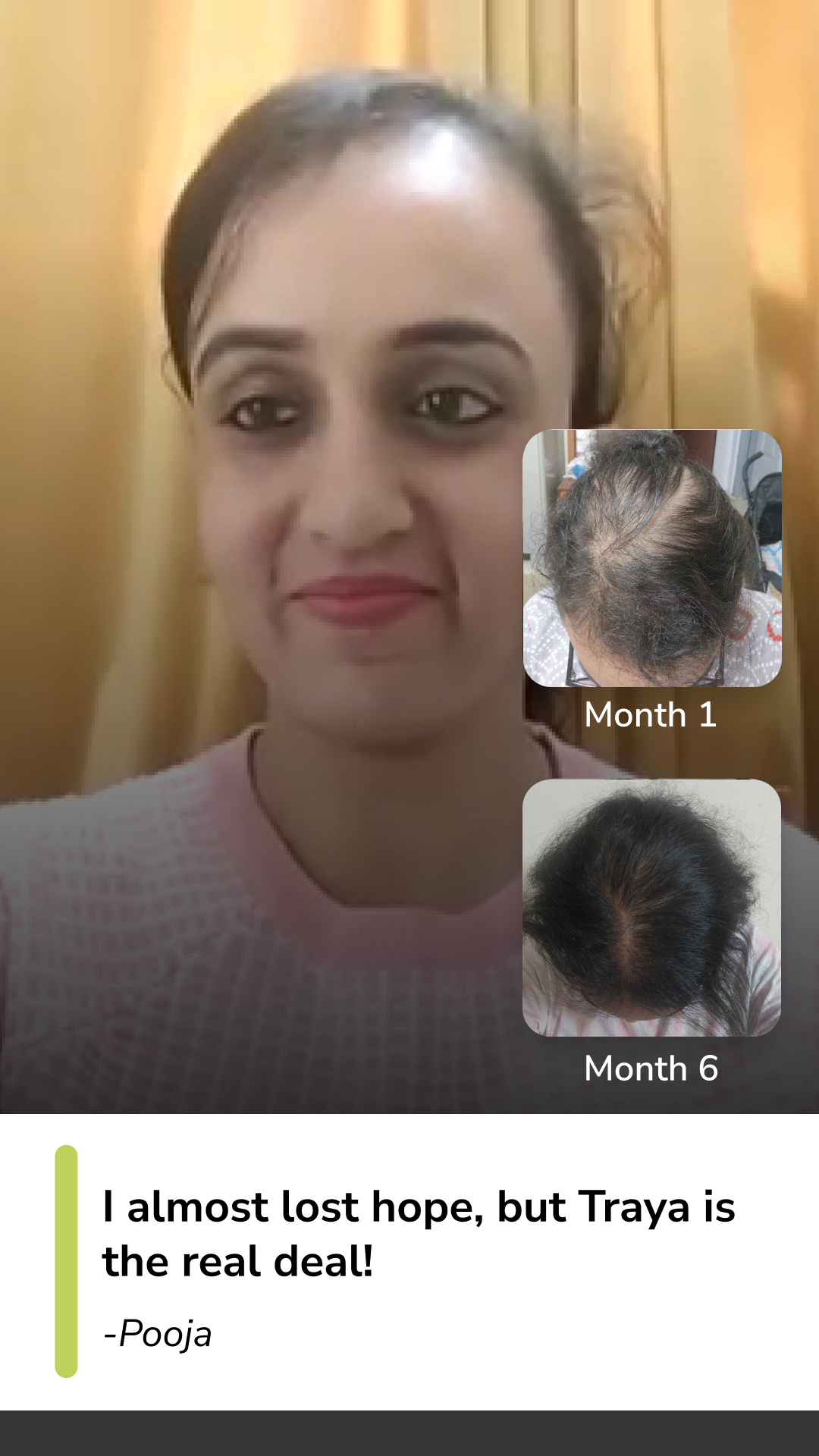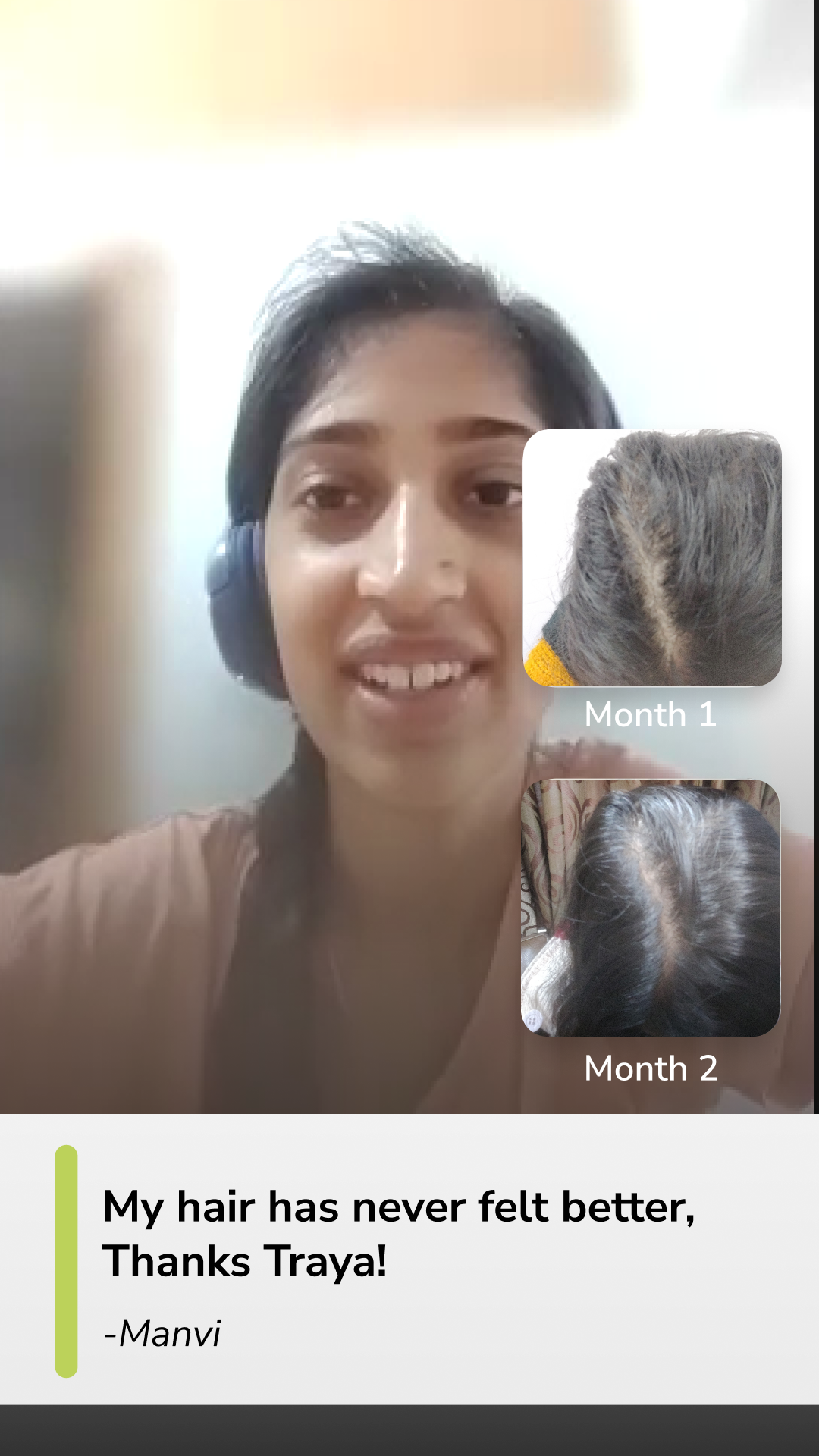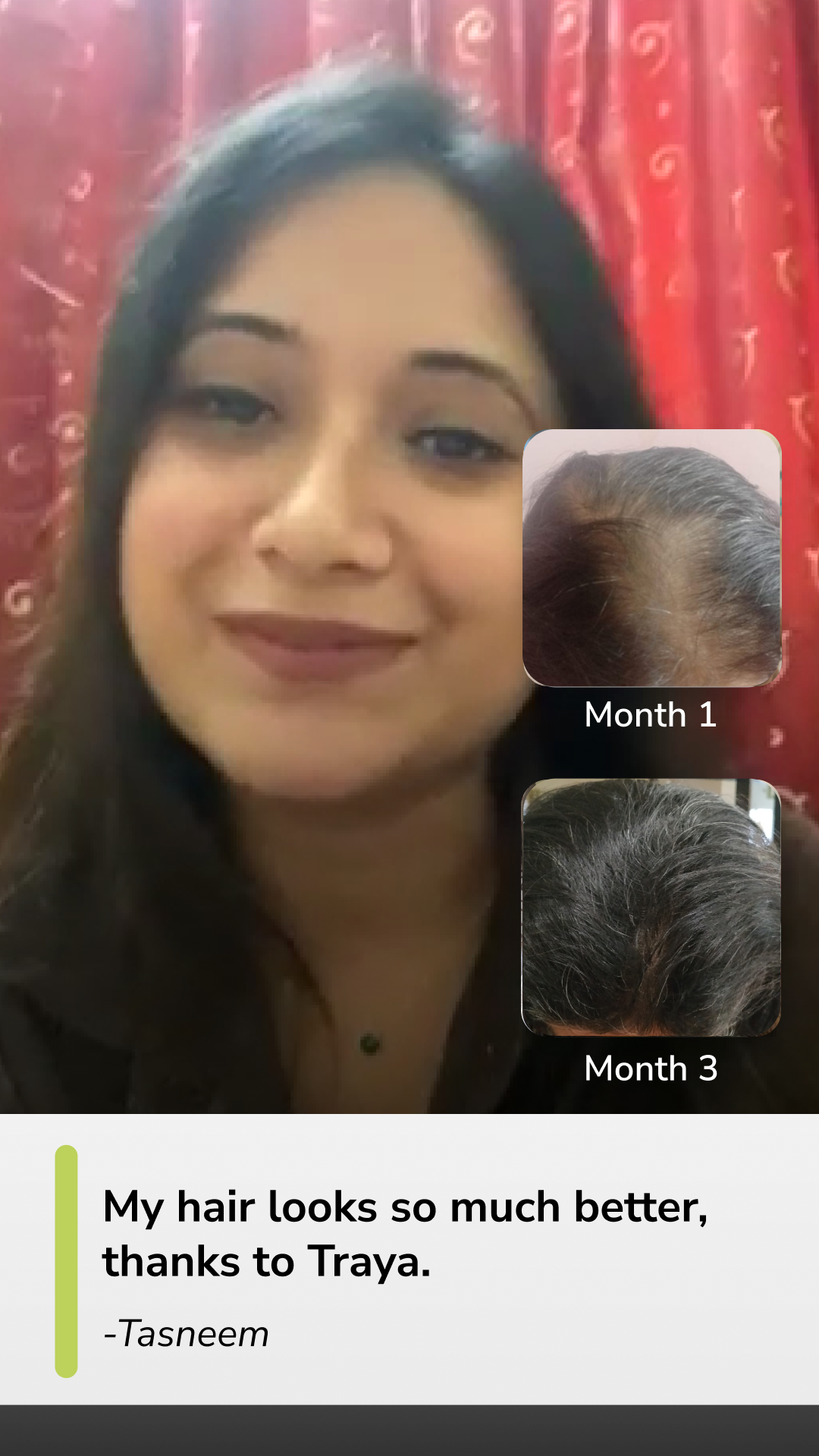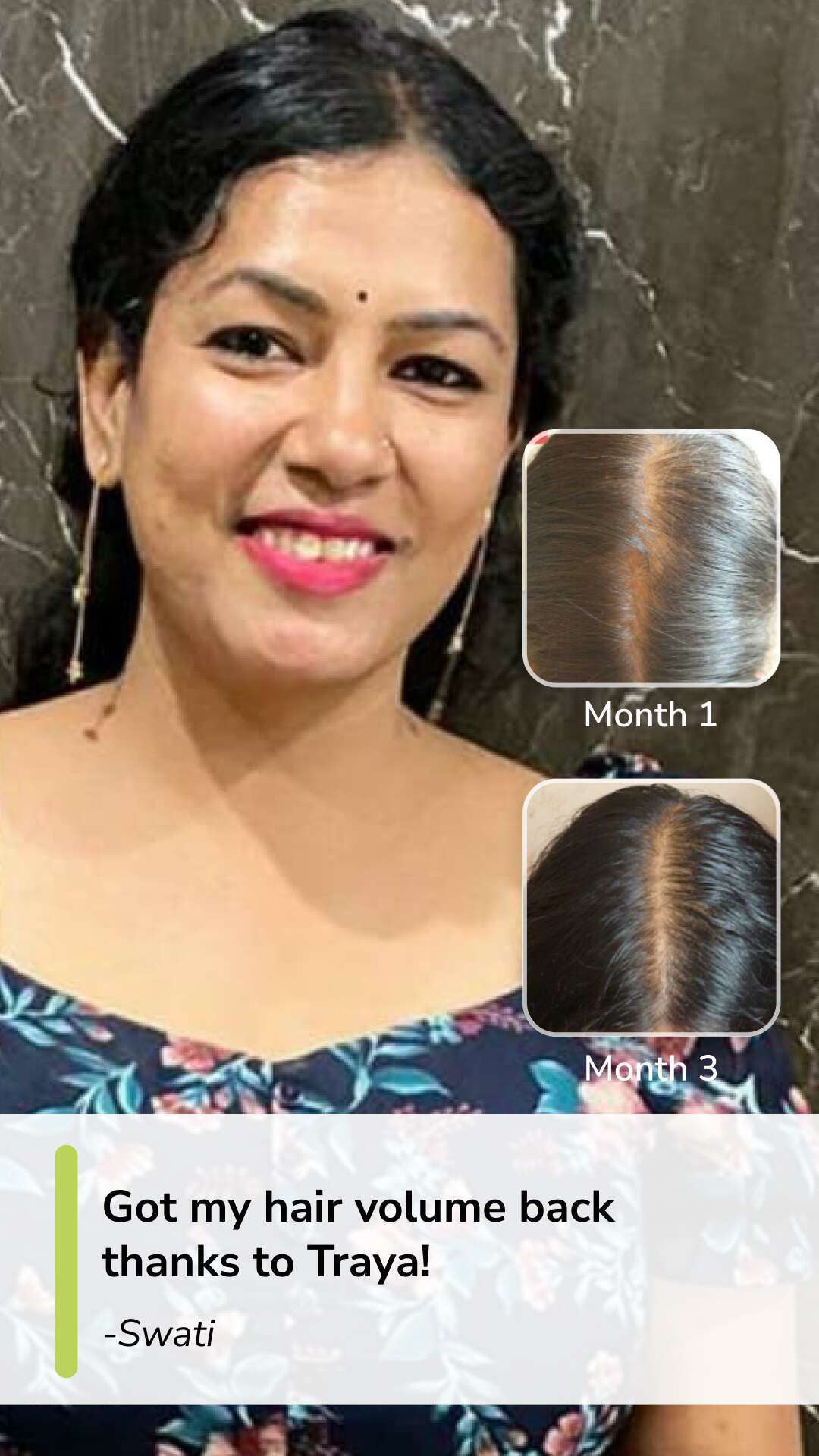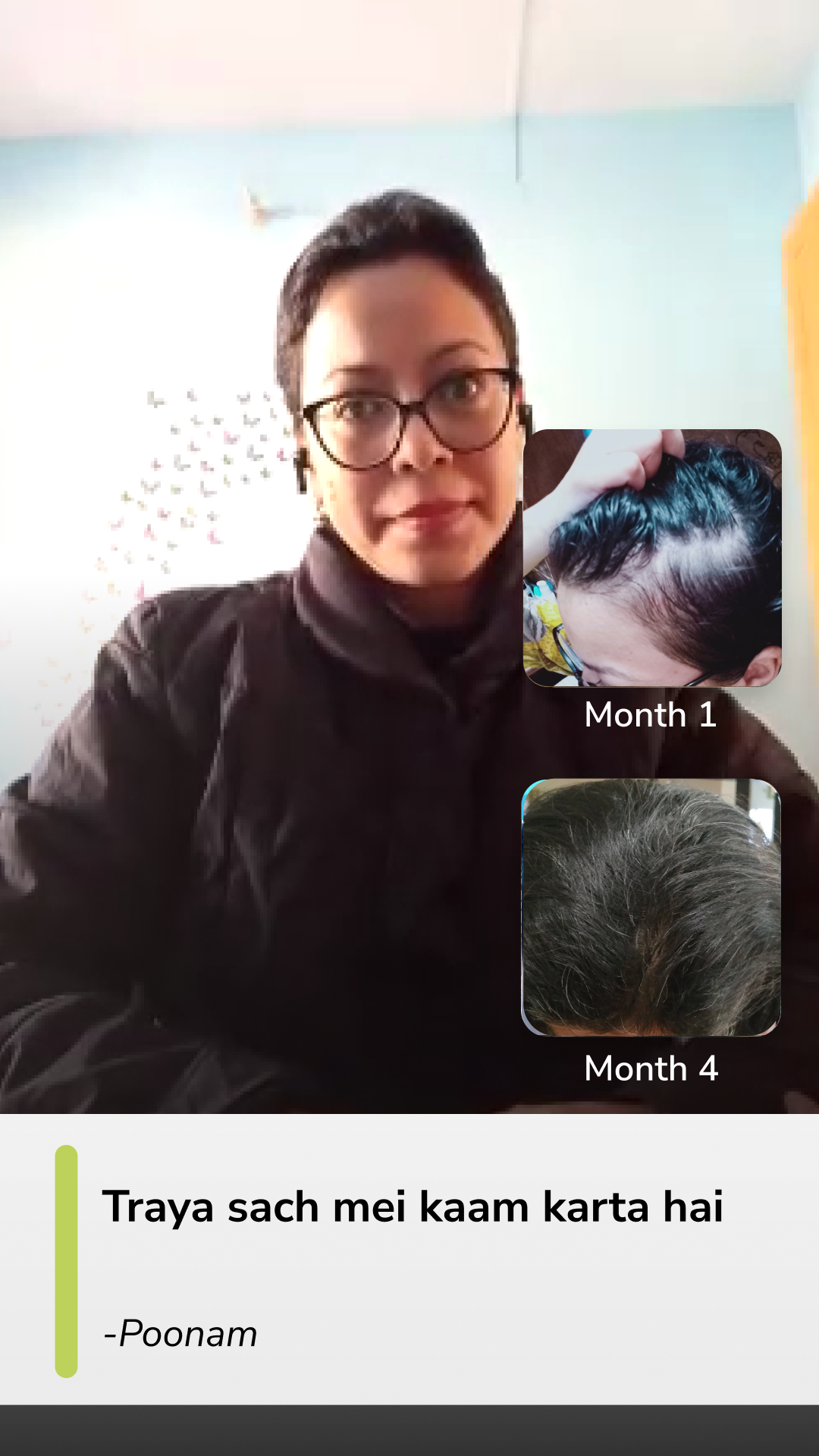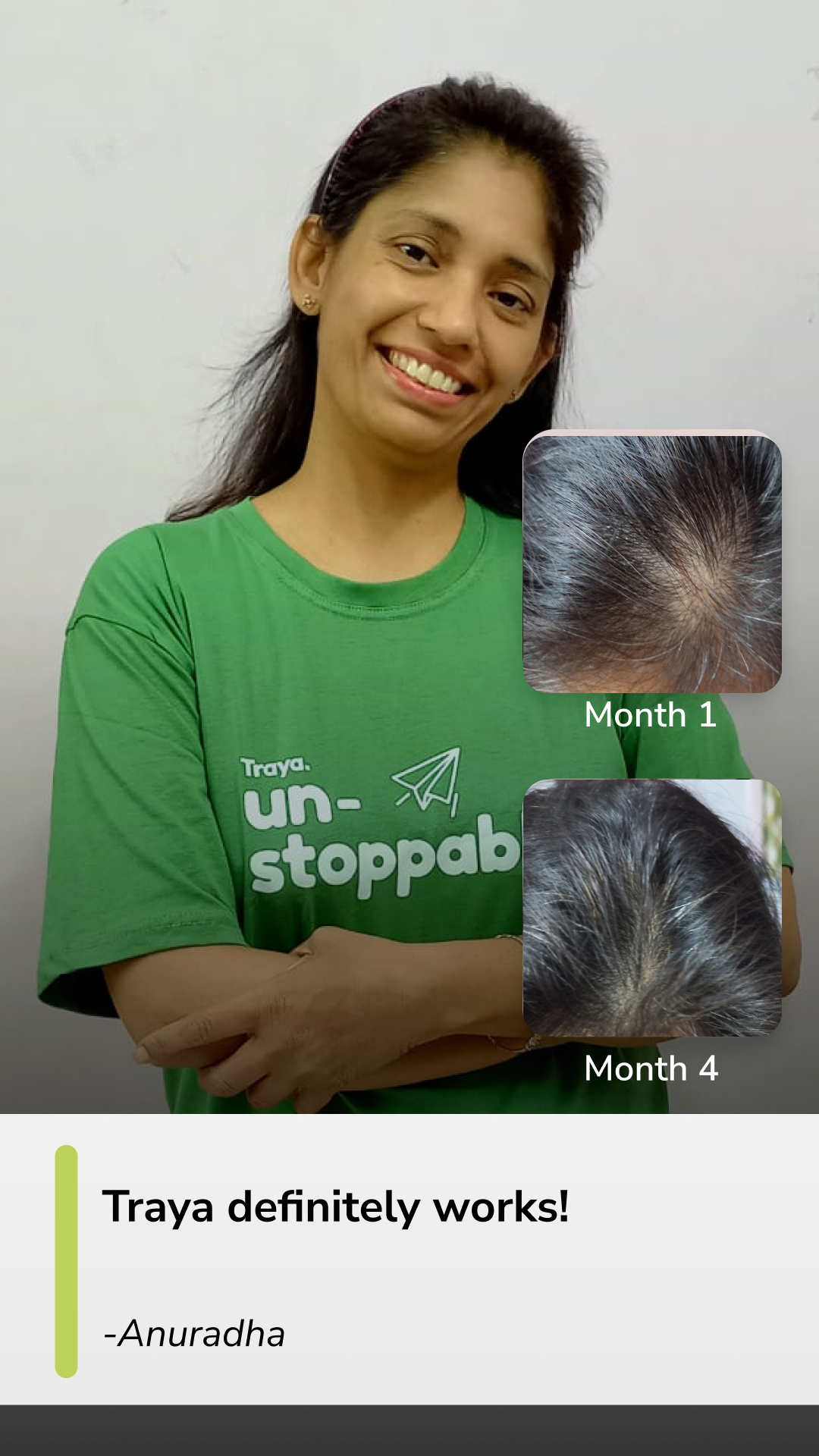 Traya's Holistic 3 Science Formula
Nutrition
Ayurveda
Dermatology
Our approach combines the goodness of 3 powerful
sciences. With a blend of 112 Ayurvedic herbs, 6 hair
growth actives and a healing diet plan, we personalize
your treatment delivering assured results.
Holistic
Made
Safe
Success
Authentic
Ingredients
Meet The Experts Who Curate Your Plan
Once you place the order, a dermatologist and ayurveda doctor will look at your case and approve your plan. They will define the exact dosage and usage instructions.
Dr. Dhwani Saxena
Dermatologist
Dr. Shefali Saini
Dermatologist
Dr Shailendra Chaubey
Ayurveda Practitioner
Dr. Harish Balaji. R
Dermatologist
Dr. Sangeeta Menon
Nutritionist
Dr. Kalyani Deshmukh
Dermatologist and Trichologist
Dr. Siddhi Sonawane
Dermatologist
Google Reviews
Had very good results in just 7 months, my coach Ritu and others helped me a lot with my journey, please wait for minimum 6 to 7 months , I had a lot of results in 6 th and 7 th month, I had slight hairfall initially, then 2 to 3 months later hair fall stopped a lot, then 5th to 7 th month hair started regrowing. Thanks a lot traya team and my coach Ritu. I feel more confident now.
Monika Venkateswaran
Posted onGoogle
Am so happy for using ur products .Thank you very much for ur products.priya u r a good trainer ,i could correct my path through ur advices Thank you whole team ♥️
shabhnam t
Posted onGoogle
Sunarthi Roy
Posted onGoogle
It took time, but the results are surely there, give it a shot!
Dipa Jyothi
Posted onGoogle
Such amazing results I can't beleive my eyes
Divya Tewatia
Posted onGoogle
I thought i was on the verge on losing my hair and then I found Traya, it has done something unbelievable, Thankyou TRAYA
Sushmita Chanda
Posted onGoogle
I never seen any products like them. It is so so good. I suggest people to try. It js best u can do for ur health
Pratibha Kale
Posted onGoogle
Traya...thank you so much for bringing my confidence back by making my hair beautiful and voluminous as before...I simply love it....
Amrita Sinha
Posted onGoogle
So happy for choosing Traya for my hair and health
Puja Sethia
Posted onGoogle
I used the product for 3 months and I saw the improvement in the growth of my hair.The product is very nice.Thanks to my hair coach @krinal sah mam for answering all my stupid questions and giving me the right instructions and always there for supporting me.Thanks to Traya Health for giving the useful& beneficial product.
pooja sahu
Posted onGoogle
Happy with the result.
After using the traya shampoo my scalp is clear and have less hair fall and my hair looks healthy, soft and shiny
aishwarya raut
Posted onGoogle
I am very satisfied with how they work, and how their plan is curated according to my needs
Poonam Beniwal
Posted onGoogle
Really proud to be on Traya regimen
Poornima shetty
Posted onGoogle
Love the results I have acheived with their help
Yazala Monica
Posted onGoogle
Thanks to Traya and Sakshi for all the support, have seen good results with the products
Nandini Seenivasan
Posted onGoogle
Started my journey with Traya on 11th September 2021, they assigned me SAKSHI DOSHI as my hair coach. I must say, it has been a rewarding experience, with Sakshi checking up on me, not only about my hair health but also about my stress levels, intake and mental health; which are major players when it comes to your hair health. I have oily dandruff, which was causing a lot of hair fall, but I am happy to report, as of 16th December 2021, my hair fall is negligible, and my hair is shiny even after using hair colour. I am impressed by the persistent follow-ups and personalised experience. Great job Traya, and thank you, Sakshi :)
Sunidhi Gaur
Posted onGoogle
It's been a wonderful experience with you guys and I am really happy with the results. Each and Every medicine,shampoo and scalp oil are effective and easy to use.Their relationship manager specially Sakshi Doshi is very friendly yet professional.Thankyou so much because of you 70%of my hair related problems are way gone and I am very sure that at the end of my treatment it will be 💯
So thank you so much Traya Health...you guys are doing great job.keep going❤️❤️❤️
Zoya Afroz
Posted onGoogle
I was desperately looking for help to treat my hair concerns and I'm glad I found Traya. Cannot explain how much my hair coach Uriah has been a support to me, she's always a text away and has been very patient in listening to all my chattering about hair problems, and give appropriate treatment. Appreciate the unconditional support 🤗 Been recommending Traya to most of my friends and patients. Thank you heaps!!!
Monisha Battula
Posted onGoogle
Hi. I'm Sowmya. I have been using Traya Health since Aug 2021 after I saw an ad on Insta. I'm so thankful to Traya health, especially Raveena, my hair coach. She has been helping me since the time I took the scalp analysis. Traya worked wonders on my hair. I was losing hair due to stress and other things, but they analysed everything perfectly and had sent my treatment plan and diet plan. In my 1st use itself I could find some difference and after 1 month I saw visible changes in my hair. Kudos to the staff at Traya health for having excellent professionalism as they check on us frequently regarding our issues and concerns. After I started seeing great results, my cousin and my brother also have started using Traya recently. Once again thankyou Traya health and Raveena( you are wonderful) for such amazing help
Sowmya Sethumadhavan
Posted onGoogle
I literally have the most kindest , sweetest , caring hair coach ever , Krinal Shah 💯 . After using Traya products I've been experiencing the kind of change that I wanted on my hair scalp . Looking forward to see more great changes 😊
I'm so happy with the way how my hair coach treats me . It's like I have a coach plus a good friend who understands and helps with my problems. So much love for you Krinal ❤️
Traya products is definitely bringing a good difference it's only been two weeks 😍 (really happy).
Aaliya
Posted onGoogle
I have been using Traya Hair Treatment since 2 months. & I'm soo happy. I'm still using this and now my hairfall is very less and hoping if I continue using this. & I will recommend this to everyone. Thanq , (Traya Health )ccc
Amita Verma
Posted onGoogle
I used traya hair ras pills for three months and i noticed reducing hairfall problem.. happy with this product..
Salma Ansari
Posted onGoogle
Thank you so much coach Raveena for helping me out from my hair loss to hair growth journey... All the best 👍 keep helping 😀ccccc
Dhanashri Deshmukh
Posted onGoogle
My experience with Traya has been amazing. I continued the meds for ~6 months and my hair fall issue has resolved to a great extent. Ritu, my primary SPOC, has been super helpful and prompt at all times. Kudos to the team!
Monika Dwivedi
Posted onGoogle
I was getting lot of hairfall and I was totally fed-up on my hair scalp after consuming lot of medicines than I have seen traya page online and When I started using traya kit after completion of 3 months I have seen very good results on my scalp and I am happy for it.. and thanks to traya and special thanks to my traya hair coach who used to take update of my hair treatment ...thank u traya team🙂
Sangita gaokar
Posted onGoogle
Really love the serum and other products, have been really helpful in regaining my hair strength and health
Rashmi Mishra
Posted onGoogle
Excellent results and service was so good individual follow up every week made it better

I would recommend it to everybody

thanks sneha who followed with me continuously for results
Chaitanya Andhavarapu
Posted onGoogle
I have been taking Traya hair treatment for the past six months , and have seen a considerable change in my hair fall , and hair density , thank you Traya, persistence is the key here .
Malathi Balajee
Posted onGoogle
It has been a great experience with Traya. The only key to get desired results is consistency. M really happy how it has helped me with my hair fall problems.. I can say that after 2.5 months of following the diet and the taking the meds, my hair are in much better shape than they were. My Hair coach Ritu has guided me through this whole process and made it possible for me.. so a big thank you to her and team for this. :)
Ayushi Garg
Posted onGoogle
As a mother,I was extremely worried about my teenage daughter's hair condition. I chanced upon Traya and approached you.A very helpful team always making sure that a regular follow up is done.The hair health has improved a lot since I started and I am very pleased with the results. Thank you Traya..Thank you Mallika for being just a call away.
Sanjukta Sanyal
Posted onGoogle
The products of Traya are great. They have guided me well on their website quiz and after using the products I have seen amazing results. My hair is much more healthy, voluminous and shiny. It also helped me to reduce hair fall and grow my hair longer.
Debaleena Dey
Posted onGoogle
I have been with Traya only for 3 months now, and I can feel the difference in my scalp and hair to a great extent. Even people around me have started noticing the difference in the quality and volume of my hair. The scalp looks good, there is new hair growth and negligible hairfall. The hair coach-Poornima in my case- is extremely helpful. She takes regular updates, conveys to me what all the doctor says as well as what's good for my hair. She is quick on her feet to help me with any queries. I am grateful that I stumbled upon Traya and gave it a Go. Anyone with hair problems, should 100% take their help.
Sambhavi Pandey
Posted onGoogle
Traya is a must for those who want to get rid of hair fall. The kind of personal attention they give in this journey is remarkable. In my case, nikita and traya products have become my blessings. My hair fall has stopped completely in merely 2 months n this is actually a miracle for me. ❤️ Sooo happy with this n now looking forward towards healthy hair growth. 🤞
Mayuri Patani
Posted onGoogle
My hairfall has been drastic for couple of years, no amount of oiling or medication helped. But when i stated my journey with Traya its shown very little difference in past 5 months but i do have small baby hairs emerging around my forehead, its definitely a moral boost for someone who saw only hairfall.
Srividhya ch
Posted onGoogle
Since i have started using Traya hair care regime, my hair have really improved a lot. This regime is also helping me in stress management and to get better sleep. I would highly recommend Traya.
Bhawana Singh
Posted onGoogle
I used the complete customised kit for females.
I had severe hair loss problem and it helped in reducing it.
Their medicines have helped a lot in improving my over-all health too. I would definitely recommend
it to everyone who wants to treat hair loss.
Amisha Jha
Posted onGoogle
I am really satisfied with the results of traya products...it worked in my case .I suggest not to ignore hair fall ."Traya"is here to solve at earliest phase.. patience is the key of success.so,be patience and Traya it
Priyanki Kumari
Posted onGoogle
I was actually making a habit of keeping a buzzcut due to my extensive hairfall. Came across a fb post of tatva got in touch with their team and after using their treatment after 2 months I'm experiencing the changes in my hair. Also special thanks to Zahra for keeping a check on my treatment asking about my progress and keeping the positive energy up in me.
Heramba Bantwal
Posted onGoogle
Hi I used Traya brand for hairfall since December 16 2020 and finally my hair fall stopped .This product help me a lot as I was quite depressed as I had too much of hair fall .Thank you so much
Jaya Rajmalani
Posted onGoogle
The Serum is Great. Its very effective if you hv baldness problem. U cn notice visible result within 30 days.

Ankita biswas
Posted onGoogle
The product is very good
The results were visible after 15 itself
Must try essential hair food
Sonia Hair Studio
Posted onGoogle
I was so worried about my hair, I heard about tatva from my son and thought to try it out.. since then I've been very pleased
Shahina Shaikh
Posted onGoogle
Kudos to the Traya team!
I have only one thing to say that I am glad that i found Traya!!!
Karishma Dalvi
Posted onGoogle
Very nice customised kit for every hair issues
Ambika Singh
Posted onGoogle
All thanks to poornima for her guidance n always availability 😊
Ankita Jambani
Posted onGoogle
Pavithra Kopuri
Posted onGoogle
Ridhima Achaliya
Posted onGoogle
Nirmala Akoijam
Posted onGoogle
I got results I didnt even expect, cant beleiev my eyes, thank god I got on their plan
Nisha Lonan
Posted onGoogle
satisfied with their approach of customised treatment plan, according to my own needs
Vidya V nath
Posted onGoogle
FAQ's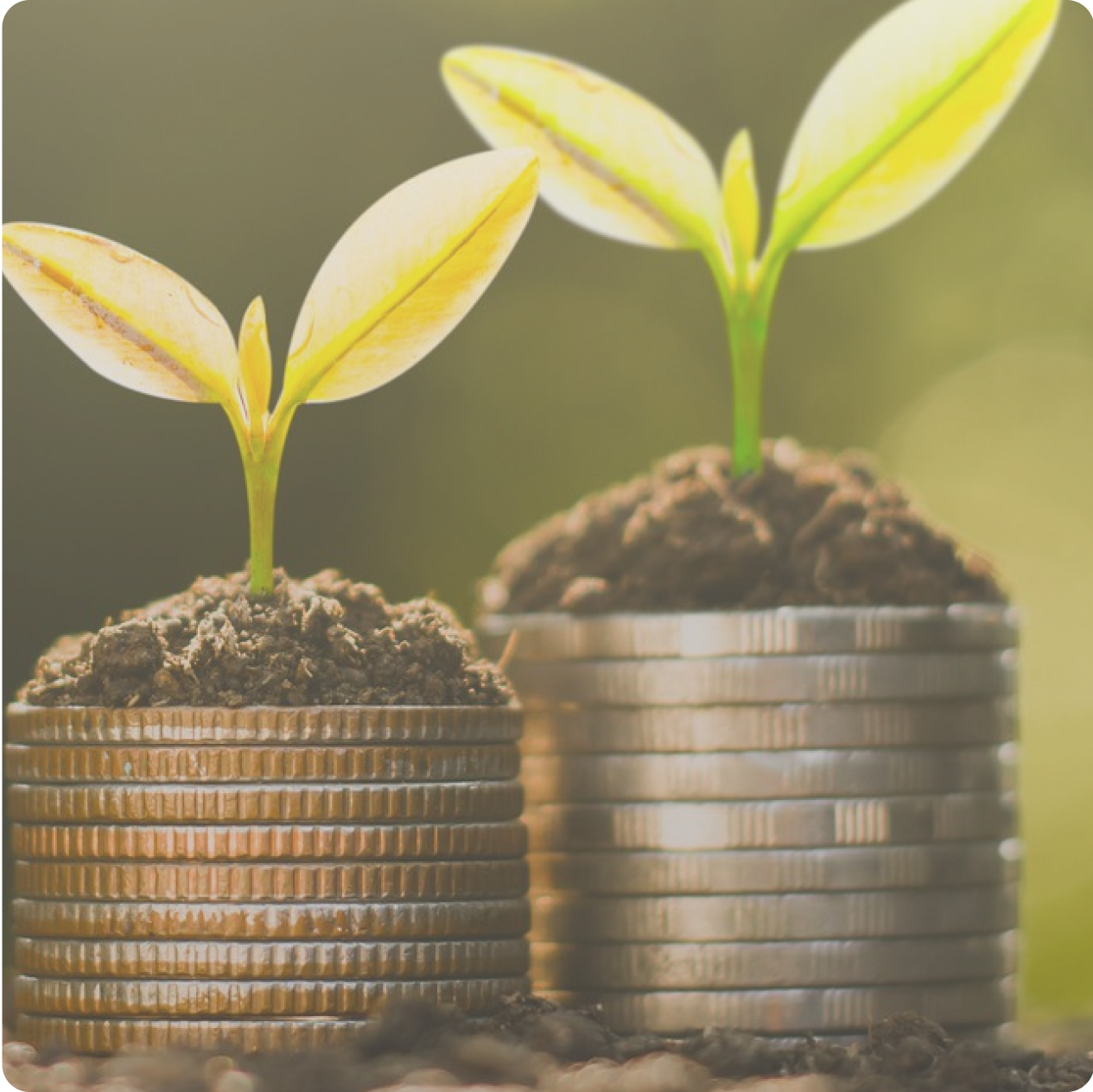 Read more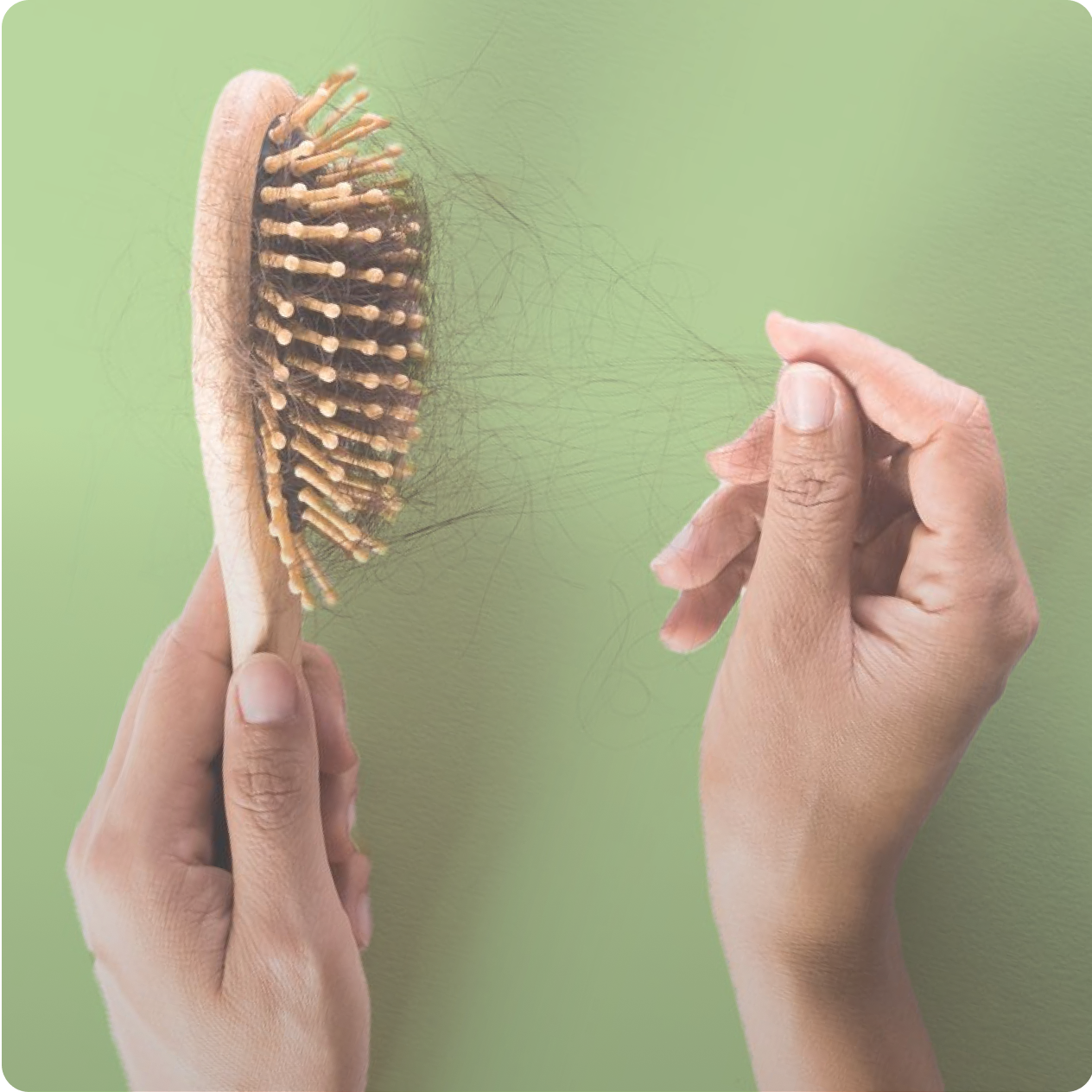 How long will the treatment take?
Read more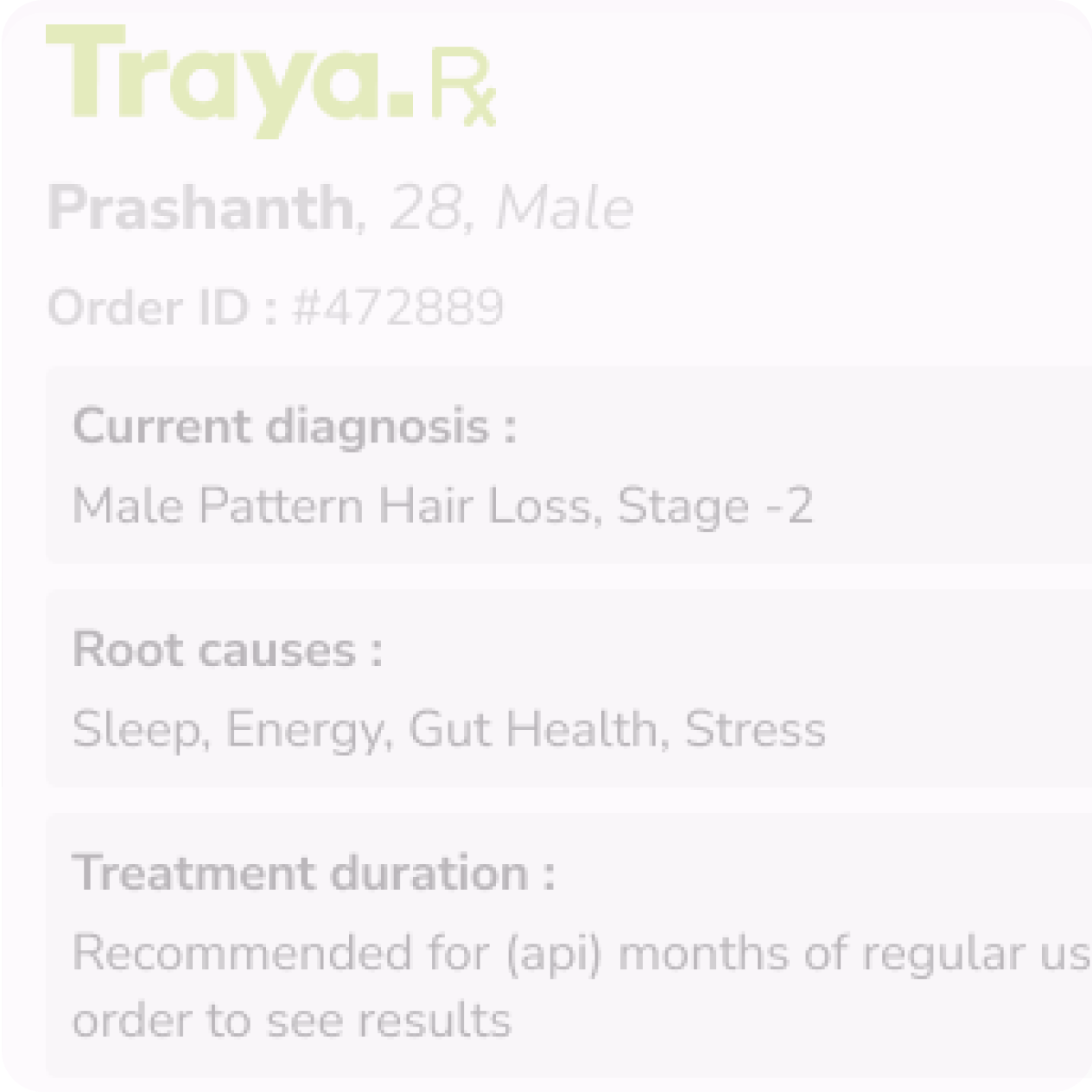 When will I get my prescription?
Read more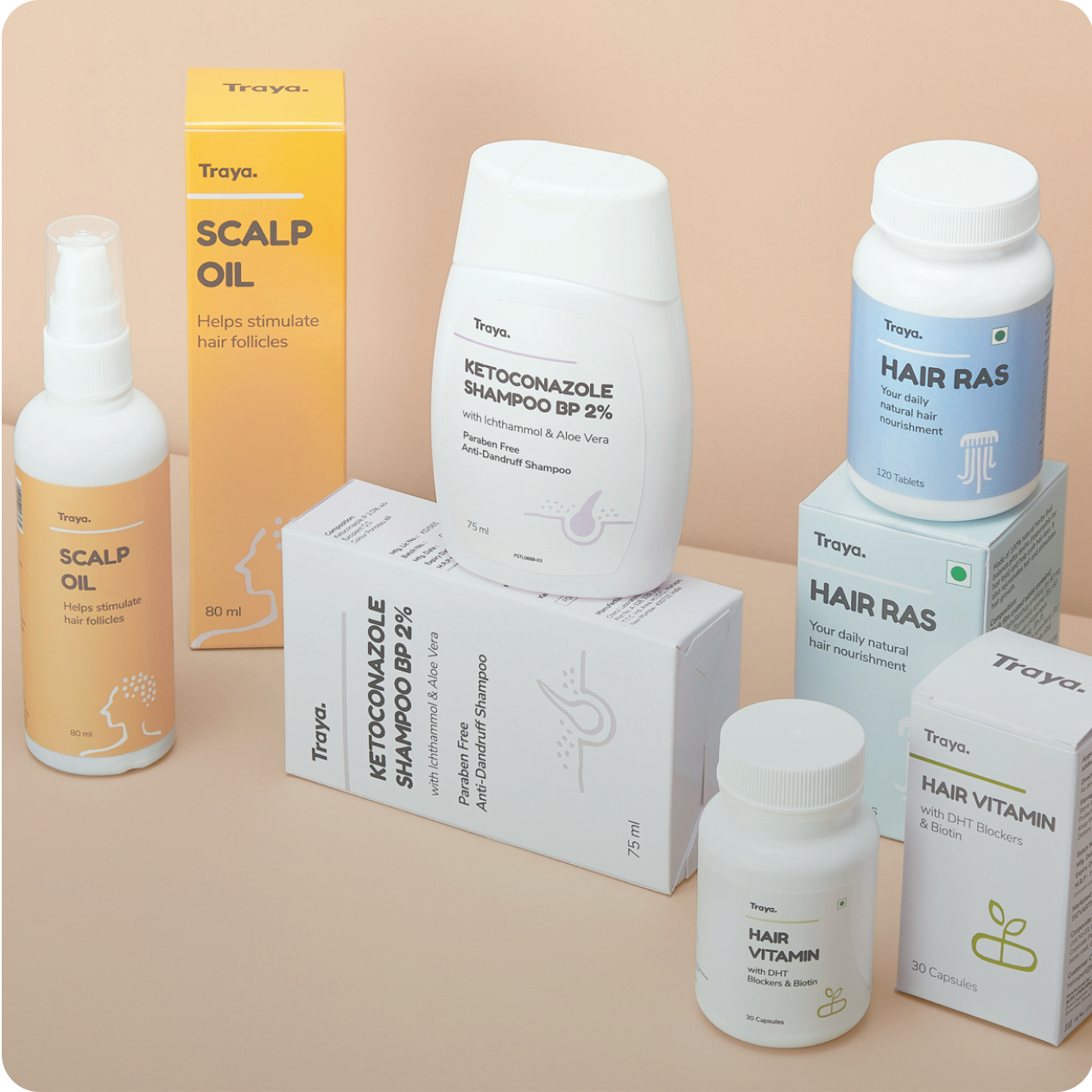 Can women of all ages see results with  Traya's treatment?
Read more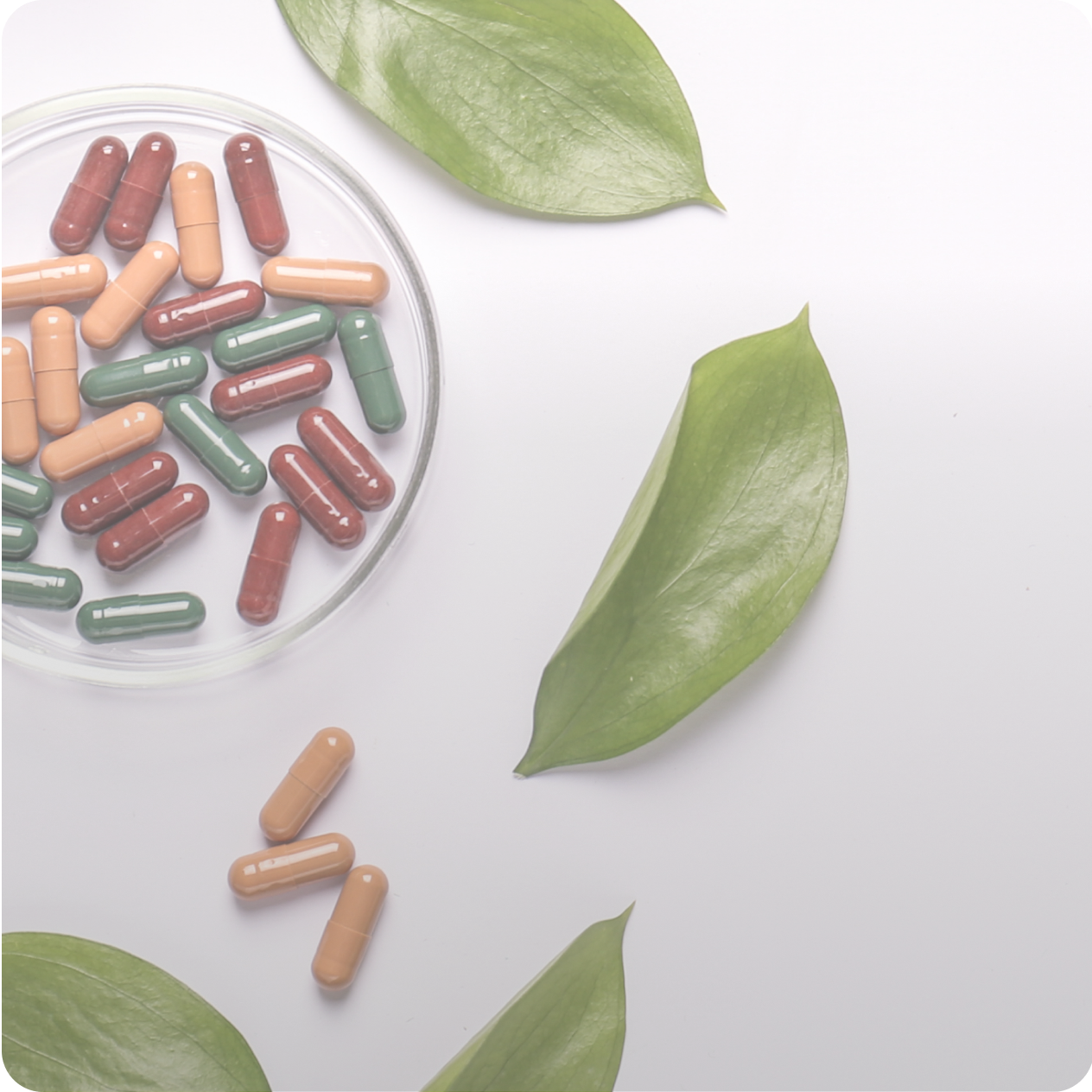 Can I use Traya with other medical treatments?
Read more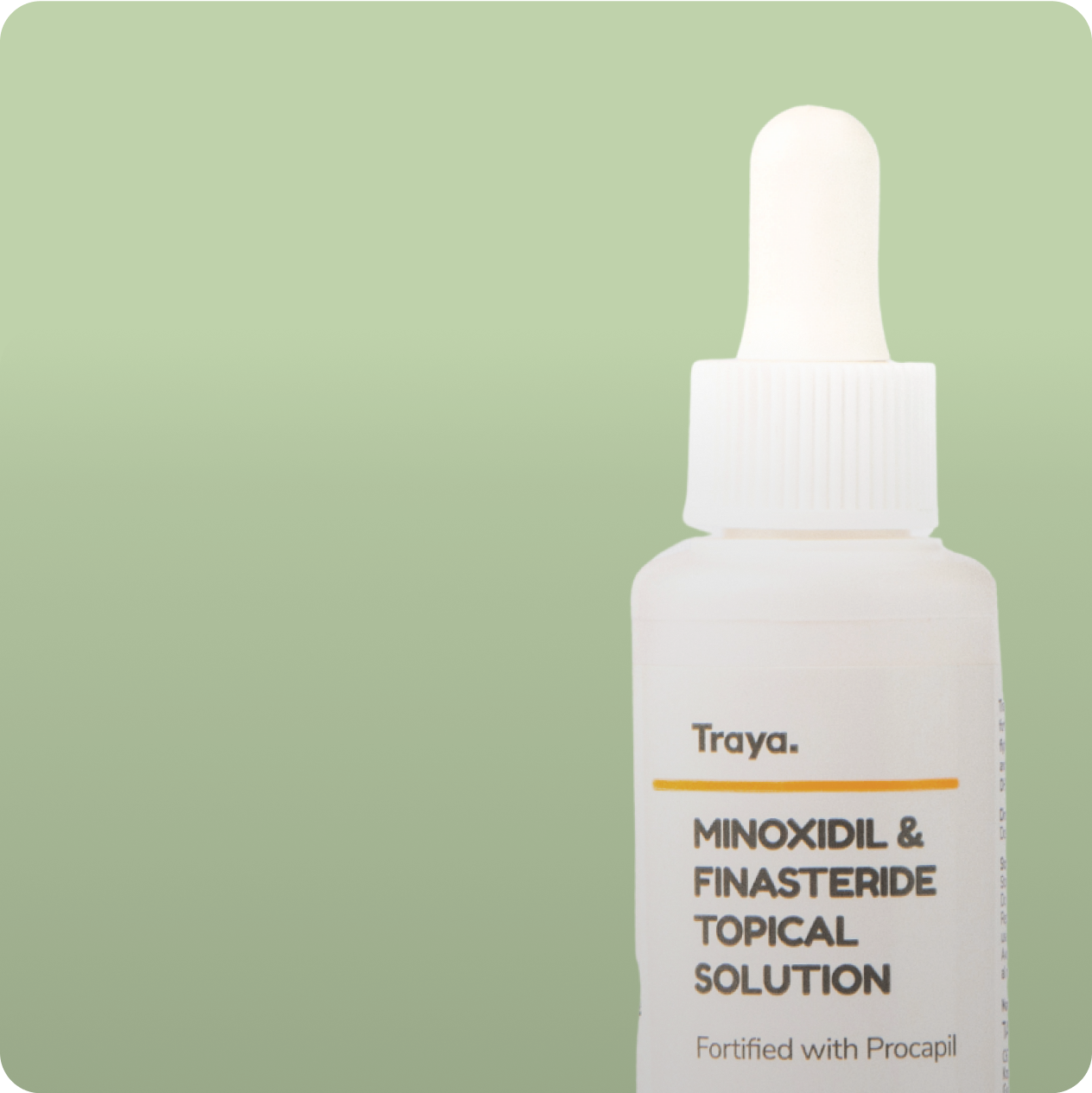 I was recommended minoxidil in my treatment, is it safe?
Read more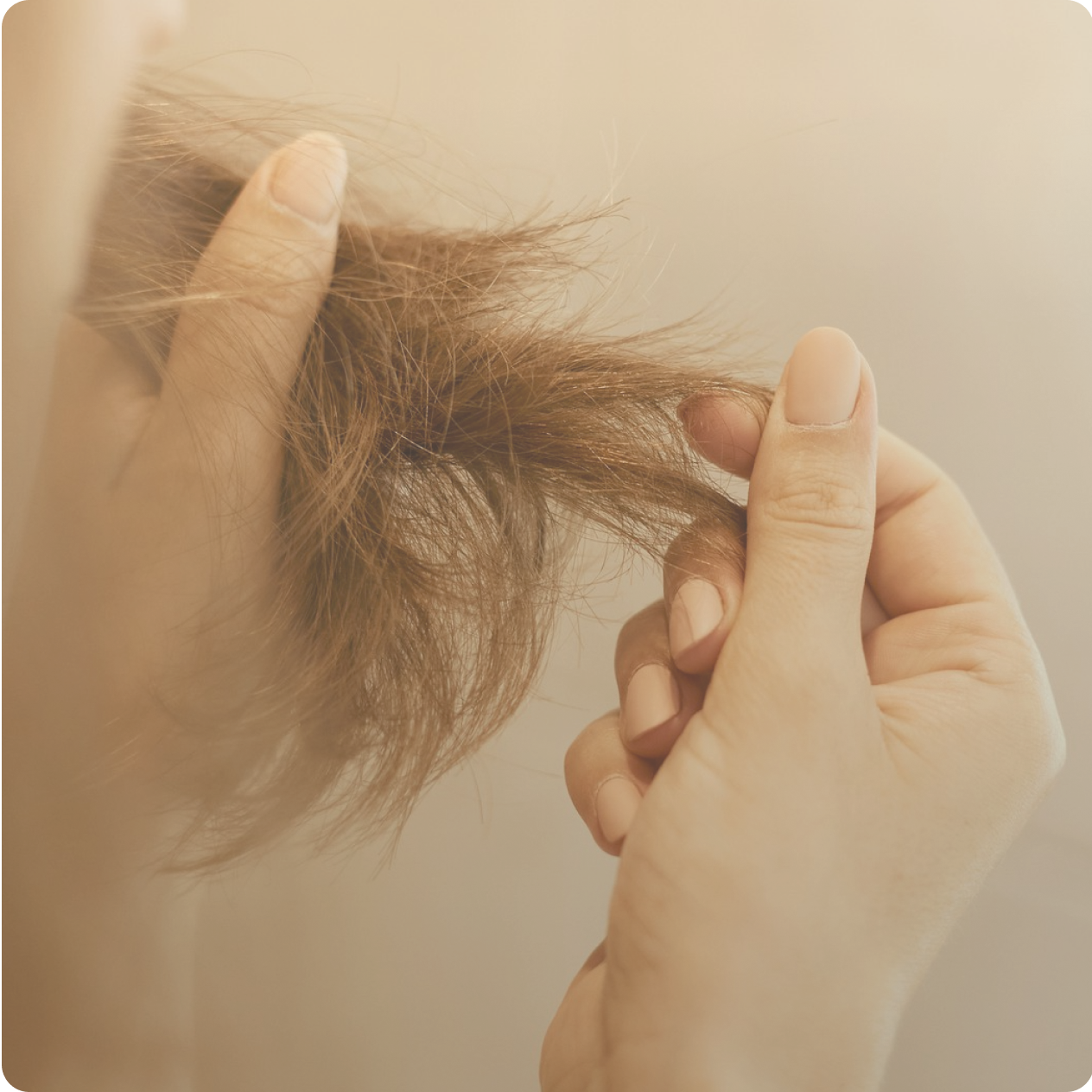 Who is my hair coach? When will I get my hair coach?
Read more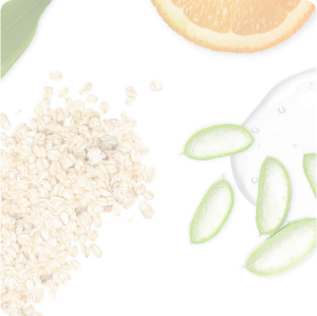 Do I need to follow the diet?
Read more
30% OFF🎉Cheers!You Saved ₹ 2000
BUY NOW
Collapsible content
Disclaimers

The claims and results mentioned are based on multiple internal studies and customer research surveys that Traya has conducted with a statistically significant sample size of users who were under expert observation and guidance

93% saw results*

Traya conducted an internal study over both men and females facing hair fall and 93% saw results* after using the complete Traya treatment consistently for a period of 5 months. This study was conducted in December 2022. 

5-month money-back guarantee

Traya's 100% money-back policy is valid only if you have been regular with the complete treatment plan for a period of 5 whole consecutive months. Each customised hair kit is valid for only 30 days. If any individual has not seen any regrowth or control in hair fall, you can ask for a refund. However, once you apply for the 5-month - money-back policy, the team would then do a thorough check on consumer regularity based on every order date. An exception to this policy is for those customers undergoing serious health conditions like autoimmune diseases and cancer. 

Traya's Holistic 3 Science Formula 

Traya's 3 Science Formula is a synergistic mix of Ayurveda, Allopathy & Food Science designed specifically to cater to hair loss conditions stemming from multiple root causes. With clinically tested ingredients and adaptogenic herbs, Traya's Science-Backed formula clears internal blockages and boosts hair regeneration naturally. When blended with a healing dietary plan, it delivers great results in attaining long-term hair growth. 

Traya Free hair test (™) 

Traya's Hair Dx test is powered by a proprietary algorithm to examine a user's hair & health profile. With the help of a distinctive image-capturing technique & physician- formulated examination, it is able to precisely diagnose the type, stage & root causes of a certain hair loss condition. 

2 lakh+ Indians 

Traya Free hair test (™) has been taken by more than 2 lakh+ Indians - Data acquired from Traya customers. 

Ayush Certified  - Digest Boost, Cholest Vati and Consti Clear are Ayush Certified Products.

Traya's Ayurvedic Products are based on natural and Ayurvedic formulations. These are completely safe for human use, but it is possible that certain ingredients may cause allergic reactions to some individuals. 

99% accuracy on hair diagnosis 

The Traya free hair test (™) is a proprietary algorithm developed with the help of our in-house doctors that provides 99% accuracy on hair and health diagnosis, provided you mention all the correct details about yourself. It gives a precise diagnosis about the type, stage and root cause of a specific hair fall condition.

Long Lasting Visible Hair Results 

Traya's complete treatment gives visible and long-lasting results provided you're on Traya's hair maintenance kit. Since Traya works on the internal root causes of hair fall and hence our customers have seen long lasting results

Trusted by 70+ Doctors

Traya has been tried and loved by over 70 doctors all over India to maintain healthy hair growth. 

Award Winning Trusted Brand

India's Healthcare Excellence initiated by Brands Impact has awarded Traya as the Most Effective Haircare Product of the Year 2022 

FDA approved ingredients 

Traya contains hair growth actives like minoxidil and DHT blocker which are FDA approved to treat hair fall. These are completely safe for human use, but it is possible that certain ingredients may cause allergic reactions to some individuals.

 

Traya Women Santulan (™)

Traya's Women Santulan is a unique technology that uses a combination of herbs treated in a specific manner (kalpa) to meet the bio-specific needs of women going through different stages of life. Santulan is a supplementary range to Traya's 3 Science Formula which balances and nourishes the body inside-out delivering long-lasting hair growth results and overall health.

Hair Growth Plan starts at Rs 1699 pm* - The price mentioned is for a male of age 23 with stage 1 type hair fall based on the results of the hair test taken on the website. Prices may vary for individual customers depending on the results of the hair test and internal root causes

Hair Growth Plan starts at Rs 2000 pm* - The price mentioned is for a male of age 25 with stage 1 type hair fall based on the results of the hair test taken on the website. Prices may vary for individual customers depending on the results of the hair test and internal root causes